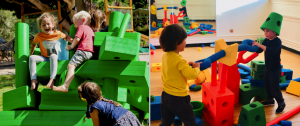 Bright Day has been involved in helping children learn since 1988 – and over the last decade helping children learn through play. Bright Day launched its Bright Day Big Blocks play system in 2018 and the global marketplace response has been "positive and quite overwhelming" – says Chief Executive Laurel Tucker.
Bright Day Big Blocks has a great story about the powers of play based learning – and how Bright Day Big Blocks genuinely contributes to boosting a child's curiosity, helping them imagine, create and build, problem solve and think critically, collaborate and communicate, build coordination, strength, and dexterity, as well as increase self-esteem and confidence. And Laurel Tucker tells that story every day – to as many people as she can get to listen.
But, what's become an extremely important by-product that Bright Day Big Blocks didn't expect was the designation of inventing a better, more modern play-system.
Once Bright Day Big Blocks began offering its block sets to schools, libraries, children's museums, nature, science, and discovery centers, park and recreation departments – "all of these organizations began talking to us, congratulating us for building a better play system", says Laurel.
In a sentence – compared to traditional playground systems our soft play, loose part big blocks are safer, mobile, encourage deep engagement, offer a different experience each time for kids, can complement what's being studied in the classroom, and is extremely cost effective. "Let's quickly review each benefit", says Laurel.
Safe: each block is made of soft and safe, light-weight EVA polyethylene foam so kids won't suffer from bumps and bruises, scrapes and splinters. Additionally all Bright Day Big Blocks are lab tested, and certified safe.
Mobile: our Big Block sets come with between 120 and 140 pieces that are easy to move – from outdoor to indoor – from cafeteria to classroom. Also, Bright Day offers Carts and Bags for sale to make it even easier to contain the cargo while being moved from one location to the next.
Engage: it's reported traditional playgrounds are single purpose and engage children for short periods of time. Bright Day Big Blocks can engage children for hours – and after a break – even more hours. Once children engage in creative development – like big block play – that activity extends, and the longer play extends the more kids learn.
Unique: customers have told us – when kids play with Bright Day Big Blocks it's never the same twice – which means each building session brings new expressions, new discoveries, and new learning.
Compliments Classroom: today, many early childhood educators use theme or project based learning to aid curriculum retention – after all, children learn by doing – and doing what they find interesting. So, teachers use Bright Day Big Blocks along with their curriculum, including it in their lessons.
Cost Effective: a Bright Day Big Block set can occupy approximately 20 children at a time, for a good deal of time. And, such a set costs one-tenth the price of a traditional outdoor playground – good play and price value.
So, did Bright Day Big Blocks invent a better play system?
Laurel Tucker concludes by saying – "well, in our quest to bring the children of the world an opportunity to imagine and create, and all – we guess we did – and so very glad to help".