BRIGHT DAY INTRODUCES ITS NEW BIG BLOCK PLAY PARK, ™ AN ACTIVE PLAY SOLUTION EVERYONE LOVES!
Created by Teachers! + Approved By Kids!!
As springtime approaches – and educators thoughts begin to turn to outdoor as well as indoor play options – BRIGHT DAY BIG BLOCKS is excited to introduce another new Big Block play product.
This new products official name is BRIGHT DAY BIG BLOCK PLAY PARK™.  
"About a year ago teachers assigned us a project – to design a portable, Active Play system, using our durable yet soft and certified safe EVA foam, says David Krishock, Co-Founder, BRIGHT DAY BIG BLOCKS.  "We were told this new system should inspire Active Play, encouraging youngsters to jump, roll, tumble, slide, crawl, hide 'n seek, run – all the actions that deeply engage a youngsters body and brain.  It was requested the play system be made up of lots of unique pieces – a dozen plus – so the pieces could be used together or separately during play – for use both indoor and out, he continued.  Also, the system must be affordable, an alternative to expensive, traditional playground equipment."  
"We listen closely to educators thoughts – their ideas have always helped fuel our product development – teachers know how to teach and develop our children.  Educators always have the best ideas – we listen!  we learn!  then we create!," says Krishock.
This past March BRIGHT DAY proudly staged a multi-country launch of its BIG BLOCK PLAY PARK – in the USA at a preschool in San Antonio, Texas.  In all locations the new Active Play System became an instant smash hit.  
Kids comments included:
"best day ever!"
"is this ours – everyday?"
"let's not stop!"
"look how far I'm jumping!" 
And a consistent comment heard by teachers:
"this is incredible!"
Teachers commented on the fun and laughter, the action and energy, the engagement and participation, the cooperation and collaboration, the bravery and confidence – and more.
The BIG BLOCK PLAY PARK is made up of 12 individual BIG pieces – giant tubes, and tunnels, and wheels, and climbers, balancers, and launch platforms – all designed specifically to generate action and engagement – each PLAY PARK can occupy 20 to 25 children at once.  Schools or play centers can purchase the entire system – or the individual pieces.  The PLAY PARK also pairs nicely with BRIGHT DAY Big or Medium Blocks.  The system works well outdoors when the weather is favorable, and it works equally well indoors.  
"We love it when creative ideas become actual play products and are loved by children.  BRIGHT DAY BIG BLOCKS is driven by a child-directed play, theme, and project based approach to learning.  Everything we do every day focuses on getting children playing and playing more.  We firmly believe play is the best way for children to learn," says David Krishock.
See more PLAY PARK pictures in our BRIGHT DAY BIG BLOCKS Photo Gallery – just follow this link to see the joy of children at play: brightdaybigblocks.com/photo-gallery/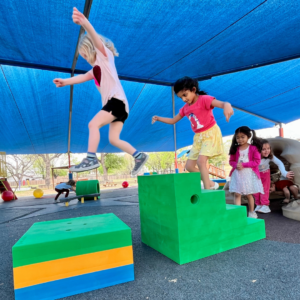 For anyone interested in the new BRIGHT DAY BIG BLOCK PLAY PARK – or any of our innovative Big Block play products visit our website at: https://brightdaybigblocks.com or give us a call, at our Los Angeles headquarters +1-818-914-6541.