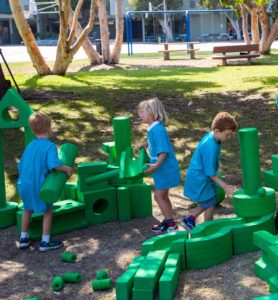 A message from Laurel Tucker, Co-Founder, Bright Day Big Blocks …..
The time is right to bring back our beloved Gift Of Play program – we are here to help!
Over the last three weeks, we have been in touch with Educators about the closing of schools. Many have told us the "doors might be closed to the children, parents, and the community, but schools in many ways must operate as though they are open for business." School Administrators have told us our block products are on their list of new items to purchase before the end of the school year. They are looking for the best play and learn big block experience for their kids – and the best price for their budgeted dollars.
Good news Educators – welcome back our Bright Day Big Blocks Gift Of Play program!
Gift of Play is a Bright Day Big Blocks program that rewards advocates of play-based learning. We encourage these organizations to be in touch, make us a reasonable offer for our blocks, and they could be theirs. We do everything we can to offer our blocks at the BEST prices of the year, at our cost. We help organizations fulfill their big-block building dreams for their children.
Co-Founder, Laurel Tucker says – "with conditions the way they are we feel we can help right now – our community of schools and children's play centers have told us our Bright Day Blocks bring great joy. Bright Day Big Blocks is most interested in helping children learn and grow through play – and less interested in profits – if we help our community everything works out for the best," she continues.
How can you and your organization participate in Gift Of Play? Contact Laurel Tucker, Co-Founder of Bright Day Big Blocks at laurel@brightdaybigblocks.com. Please provide your name, organization, address, phone number, and email – this will begin the process.  This Gift Of Play program begins March 23rd and continues through May 31, 2020 – our springtime offer includes ALL of our products – Big, Medium and Small blocks – in single color and multi-color forms.
Laurel Tucker continues by saying "this past fall of 2019 our Gift Of Play program helped hundreds of organizations and thousands of children play and learn with Bright Day Big Blocks. Through BEST pricing we provided communities access to products that otherwise might not have been affordable. Today if there is an organization out there that has Bright Day Big Blocks on their TO DO list we are going TO DO OUR PART to help."
Please Accept Our GIFT OF PLAY!
Laurel